Oct 2020 -

B & F Dental Clinic was featured on Singapore's Finest Hall of Fame Website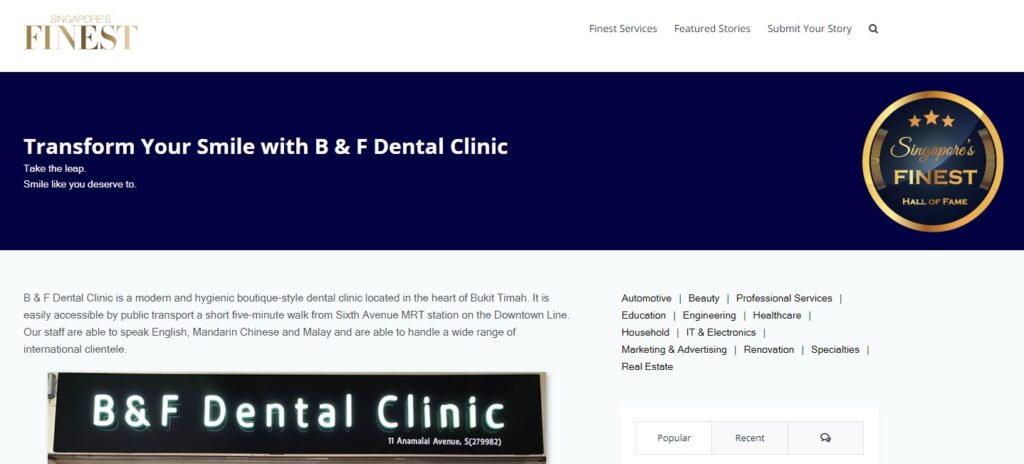 B & F Dental Clinic Featured on Singapore's Finest Hall of Fame Website
We were pleasantly surprised to be given a feature on the Singapore's Finest Hall of Fame website. It's nice to know that we are appreciated!
Source: https://finestservices.com.sg/b-f-dental-clinic/
August 2020 -

Dr Hong was featured in an article about the National Dental Centre (Singapore) care partnership program in SingHealth's newsletter.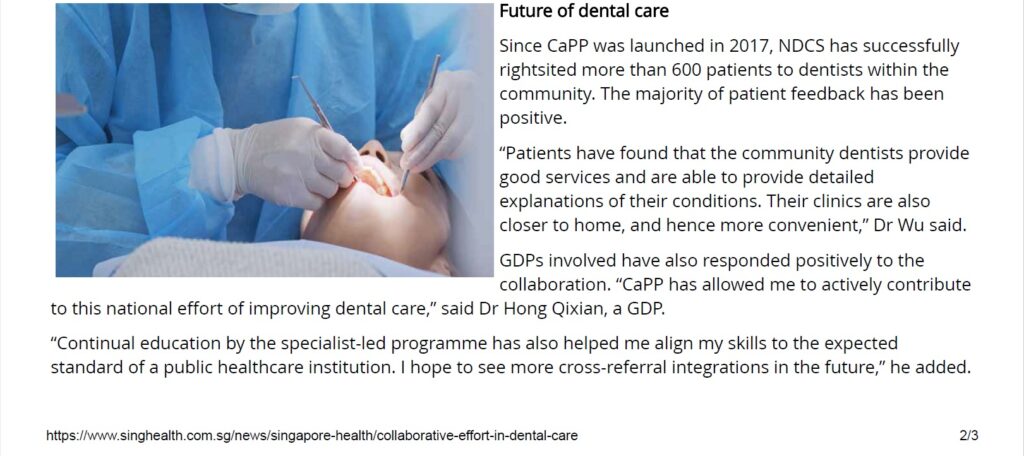 Future of dental care
Since CaPP was launched in 2017, NDCS has successfully rightsited more than 600 patients to dentists within the community. The majority of patient feedback has been positive.
"Patients have found that the community dentists provide good services and are able to provide detailed explanations of their conditions. Their clinics are also closer to home, and hence more convenient," Dr Wu said.
GDPs involved have also responded positively to the collaboration. "CaPP has allowed me to actively contribute to this national effort of improving dental care," said Dr Hong Qixian, a GDP.
"Continual education by the specialist-led programme has also helped me align my skills to the expected standard of a public healthcare institution. I hope to see more cross-referral integrations in the future," he added.
Such plans are already in the pipeline. NDCS intends to expand the programme to engage more dental partners and include other procedures, such as advanced root canal treatments.
"We hope to grow the current pool of 36 dental partners to 60 by 2022. Once the pool of dental partners is sizeable, they can even set up their own primary care network, which will enable a more seamless collaboration with NDCS," said Dr Wu.
"Dental care is a responsibility that needs to be shared by every healthcare worker. We need to ensure that patients get the right care from the most suitable providers in the right setting and at the right time," she said.
Source: https://www.singhealth.com.sg/news/singapore-health/collaborative-effort-in-dental-care