B & F Dental Clinic – Patient Information Series
Professional Teeth Whitening In Singapore
Why Choose
B & F Dental Clinic for your Professional Teeth Whitening in Singapore?
Meticulous and experienced dentists whom have worked with many satisfied clients.
Our clients frequently commend us for being gentle and detailed.
We recommending only the most suitable type of teeth whitening for your dental needs.
All necessary customization is provided to ensure teeth whitening trays fit comfortably.
Fully equipped with x-ray, gum treatment and crown / veneer services available if required.
Subsidies for Pioneer Generation, Merdeka Generation and CHAS available for other procedures.
Competitively-priced, value-for money teeth whitening.
Contact us today at +65 6909 7664 or WhatsApp +65 9383 6121.
What is Teeth Whitening / Teeth Bleaching?
Teeth Whitening, also known as teeth bleaching, involves the use of HSA-approved whitening agents to whiten dark, stained teeth. This usually comes in the form of a gel that may be flavored or scented for better taste. The active ingredient used is usually Carbamide Peroxide or Hydrogen Peroxide of various concentrations.
Tooth whitening products that contain concentrations up to 6% hydrogen peroxide (equivalent to 18% carbamide peroxide), can only be prescribed by a registered dental practitioner for home use by the patient, and only after consultation with their registered dental practitioners.
https://www.hsa.gov.sg/consumer-safety/articles/online-diy-teeth-whitening-kit-pain
What Causes Tooth Discoloration?
Some people have healthy teeth that are naturally a bit darker or more yellowed. These are good candidates for teeth whitening.
Some people have discolored teeth due to decay which can look black or brown. These people may need treatment for decay and whitening will not solve their problems.
Some teeth are discolored due to consumption of certain antibiotics during the ages of growth (tetracycline stains) or due to problematic fillings or decay. These will need to be treated appropriately by a dentist before any whitening treatment.
It is important to correctly identify the cause of tooth discoloration before choosing to do any form of whitening. This is why it is important to see a qualified professional for whitening rather than an untrained beautician.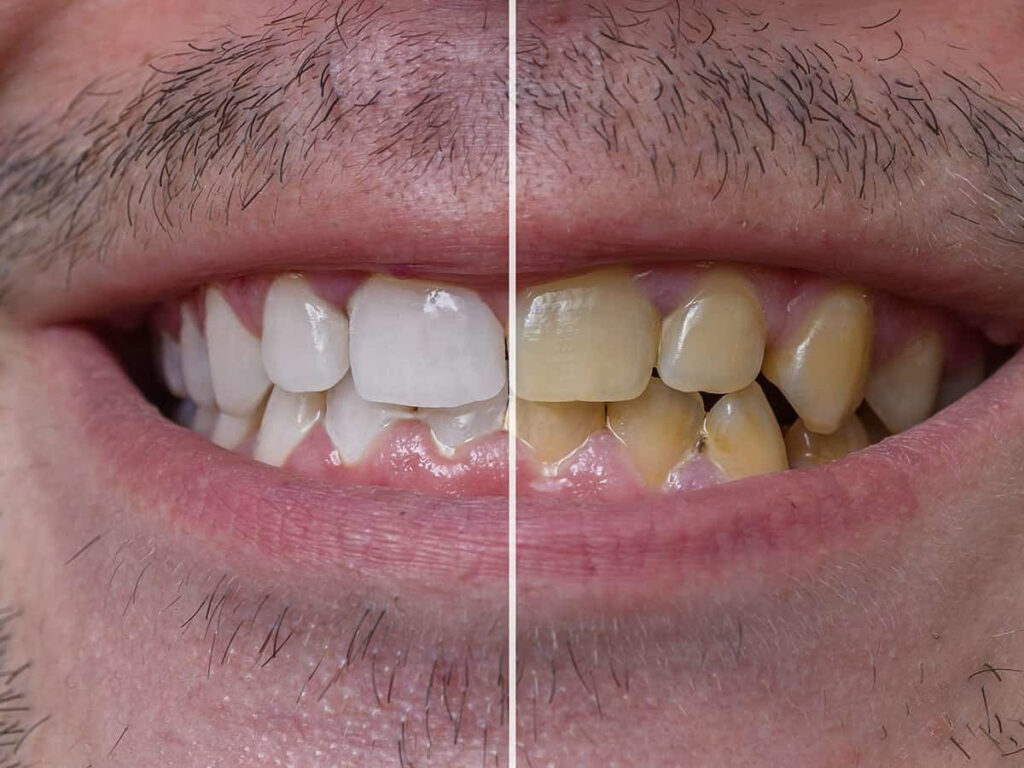 Possible Effect of Teeth Whitening – please note that this photo above is a generic photo image from the Web, It is not an example of our work and not taken of any of our patients. Results vary for each patient.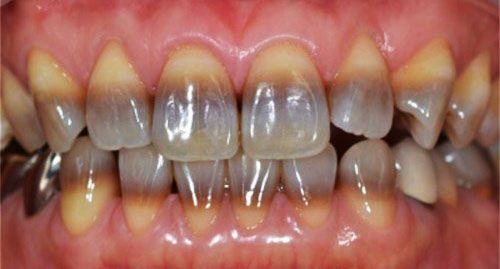 Tetracycline stains – these teeth may not be suitable for whitening alone as veneers or crowns may be required to mask the intense discoloration.
How Effective is Teeth Whitening?
Teeth Whitening works well for healthy, unrestored teeth with mild to moderate internal discoloration.
Based on the teeth whitening shade guide, a general rule of thumb is to expect  a maximum of 6 – 8 shade changes. 
Teeth that start off whiter tend to look whiter but may show less drastic change.
Not all teeth whiten well. Some teeth whiten unevenly. 

Fillings, crowns or any artificial material on the teeth will not whiten. These may need to be changed eventually if the shade difference is too obvious.
Teeth that have severe discoloration may need crowns or veneers to mask the color. It may be impossible and a waste of time and money to attempt whitening for such cases.
Who Can Do Teeth Whitening?
Teeth whitening is generally safe for most people with a few exceptions as listed below.
Teenagers and Children Below The Age of 16
Teeth whitening is generally not recommended for children and teenagers under the age of 16 as the living internal portion of their teeth (dental pulp) is still quite large and has not reduced in size with time. They tend to be more prone to pain / sensitivity and potential complications from teeth whitening.

Pregnant Mothers
While the risk of complications from doing teeth whitening is generally low as the gel is usually not ingested, the general recommendation is for pregnant mothers to defer teeth whitening. For breastfeeding mothers, it may be best to consult with your obstetrician first.
People with Active Decay / Gum Disease
Teeth with active decay, cracks, wear-and-tear or gum problems may experience irritation from the whitening gel and in severe cases may become acutely painful, requiring root canal treatment. It is always best to go for a check with your dentist first and address active problems.
Am I Ready For Teeth Whitening?
At B & F Dental, we would examine your teeth and gums first.
We would also normally take an x-ray to check the overall condition of your teeth.
This step is highly recommended as it is very important and frequently overlooked.
To us, it is important to do our best to identify teeth or gum problems that may not be obvious before starting the whitening procedure for you.
We would advise you to treat teeth that require extraction, gum treatment, fillings, crowns or root canal treatment as needed first.
This ensures that we minimize unexpected and unwanted surprises (e.g. toothache) during and after the teeth whitening treatment.
What is the whitening procedure like?
In-Office Whitening (~45min to 1h)
1. Your teeth may be lightly polished.
2. A mouth retractor is placed to keep your lips away from your teeth.
3. A gel-type material that hardens on light exposure is applied to your gums to prevent the gel from contacting the gums directly.
4. Professional grade whitening gel is mixed and applied to the visible teeth surfaces. 
5. A light may be placed to shine on the teeth to activate the gel.
6. The gel is left for one cycle of approximately 15min while you sit back and relax.
7. The doctor will do a check after 15min and refresh the whitening gel, before proceeding with another 15-min cycle.
8. After 3-4 cycles, the treatment is complete.
9. You will be given aftercare instructions. The teeth may look a bit splotchy due to uneven rates of whitening. That is normal and the color will usually even out after 24 – 48h.
10. For cases with moderate to severe tooth sensitivity, painkillers may be prescribed.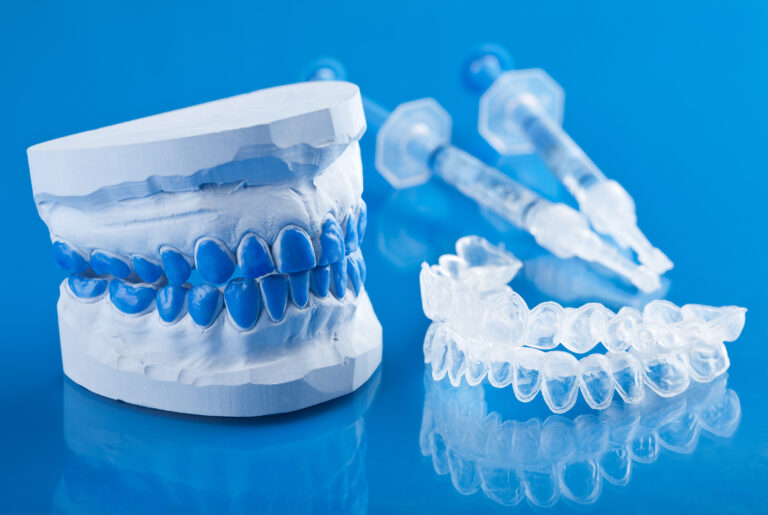 Take-Home Whitening (2 Visits)
1. Your teeth may be lightly polished.
2. Impressions are taken of the upper and lower jaws.  Each impression takes a few minutes.
3. The impressions are sent to make the whitening trays. You will usually be given a second appointment for the tray fitting.
4. At the second appointment, the bleaching trays are fitted and any uncomfortable spots are adjusted.
5. You will be taught to wear and remove the bleaching trays.
6. You will be given our customized set of instructions on how to use the whitening gel and for how long.
7. Home whitening is usually self-applied for 1-2 hours per day for 2 – 3 weeks.
What Side Effects Are there?
Tooth sensitivity is a known side effect of teeth whitening. This can occur as a mild ache, increased sensitivity to hot or cold or throbbing discomfort.

In rare cases, irritation or injury to the pulp tissues of the tooth may occur and root canal treatment may be required. This is not a common issue and whitening is usually very safe when done correctly as prescribed.
Is In-Office Whitening (Chairside) or Take Home Whitening More effective?
Both methods of whitening are effective. 
In-Office Whitening has an element of speed – it achieves results fast and you need not worry about self compliance.
Take-Home Whitening is slower.
For fast and consistent whitening result, it is possible to do the in-office whitening and follow-up with take-home whitening for maintenance.
How Long Can Teeth Whitening Last and How Often Should I repeat Whitening?
Teeth whitening can last 1 – 2 years on average but the results vary per person and are also dependent on your lifestyle. People who consume food and drinks known to cause stains (curry, red wine etc.) will likely see the discoloration coming back sooner than people who do not.
Whitening should not be done too frequently (<6 months) as it can affect surface enamel.
References:
https://www.ada.org/en/member-center/oral-health-topics/whitening
https://www.ncbi.nlm.nih.gov/pmc/articles/PMC4058574/