B & F Dental Clinic – Patient Information Series
Dental Crowns and Bridges in Singapore
Why Choose
B & F Dental Clinic for your Dentures in Singapore?
Meticulous and experienced dentists whom have worked with many satisfied clients.
Our clients frequently commend us for being gentle and detailed.
Recommending only the most suitable types of dentures for your daily needs.
– All necessary customization provided to ensure dentures fit comfortably.
Fully equipped with x-ray, gum treatment and extraction services available if required.
Subsidies for Pioneer Generation, Merdeka Generation and CHAS available.
Competitively-priced, value-for money dentures.
Contact us today at +65 6909 7664 or WhatsApp +65 9383 6121.
Dentures are teeth replacements made of plastic, metal or a combination of both. There are fixed and removable teeth replacement types. To prevent confusion, we will be referring to removable dentures in this article.

These removable teeth are custom-engineered to fit precisely over your existing teeth or gums and fill the spaces where you are missing teeth. The materials used are usually chosen to be relatively strong for daily use and bio-compatible with your teeth and gums.
They can be removed and cleaned when you go to bed.

Every denture is different. A denture that fits one person will almost certainly not fit another person. Dentures cannot be traded or reused!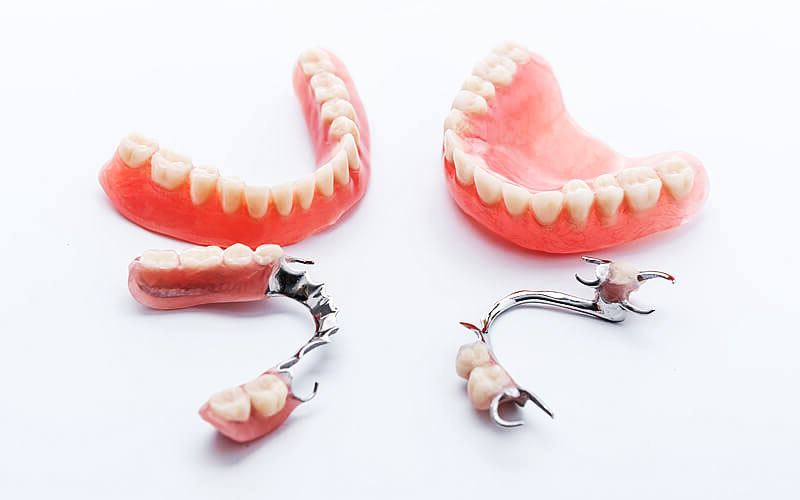 We have many good options for replacing missing teeth such as with implants and dental bridges, however, these options are often more costly.
Dentures are an affordable option for replacing one or more missing teeth for those who are less financially able.
They can be a good temporary option for people who have not decided on other forms of teeth replacement like implants or bridges.
Artificial plastic teeth are good compromises for people who are sick, elderly and generally not in good health for surgery. In such cases, they may be the best option available.
Dentures can look good if made well and the wearer can adapt well.
Many people have been using dentures successfully for many years.
You'll probably be surprised at how many friends and relatives of yours wear dentures but have never told you!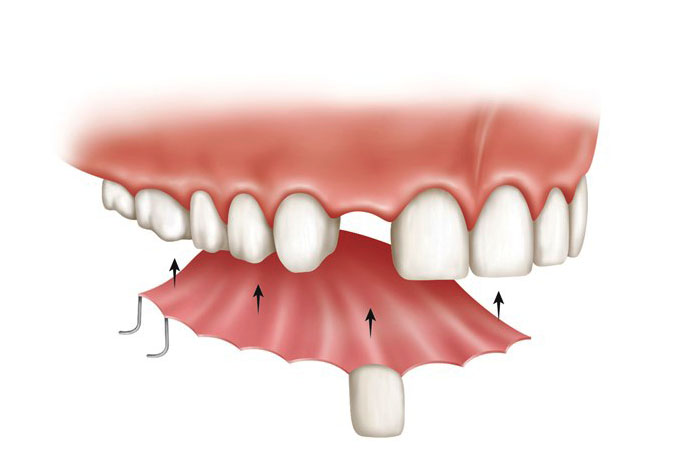 At B & F Dental, we would examine your teeth and gums first.
We would also normally take an x-ray to check the overall condition of your teeth.
This step is highly recommended as it is very important and frequently overlooked.
To us, it is important to do our best to identify teeth or gum problems that may not be obvious before making a denture.
We would advise you to treat teeth that require extraction, gum treatment, fillings, crowns or root canal treatment as needed first.
Once the active and potential problems are dealt with, the denture can be made.
This ensures that we minimize unexpected and unwanted surprises (e.g. toothache) during and after the denture treatment.
We also do not want you to remake the denture earlier than expected.
"Wait, There's more than one type of denture?"
The answer is, YES!
What sort of denture do you want to make? There are many considerations when it comes to making a denture. At B & F Dental, we will guide you in recommending you something that best suits your needs and budget.
A Full Acrylic Denture is used for people with no teeth. They can look nice and fit well, but they can be difficult for some people to get used to. The lower full acrylic denture is often a bit loose due to a lot of movable tissues around the lower gums. Some people have difficulty getting used to these dentures.
In such cases, Implant-Supported Dentures may be an option.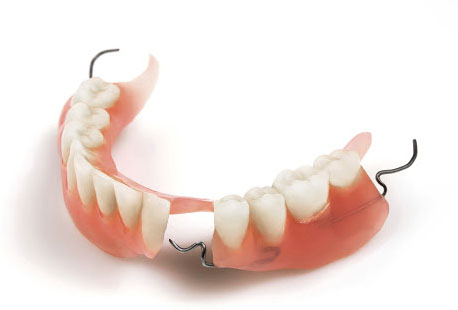 Acrylic Partial Dentures are the cheapest and most basic dentures that are available to most people. If done well, they are a good, budget-friendly option for replacing missing teeth.

We often recommend wire clasps to keep the denture stable in the mouth, which not everyone can accept because the wires may look ugly.

However, they may find that their denture becomes unacceptably loose without the wires so it is a compromise that you have to accept without doing implants.

Plastic Acrylic Dentures often last well for 2-3 years before they start becoming a bit loose.

They have to be thicker for strength and tend to be less durable than metal Cobalt-Chromium-based dentures.
Partial / Full Cobalt-Chromium Dentures
Partial or Full Cobalt-Chromium Dentures are dentures made with a metal frame. The teeth and the gums will still be in plastic. These dentures are known to be more durable, more comfortable, thinner and tend to fit more naturally then plastic dentures.

They also have the advantage of allowing better heat conduction so that you can better feel the temperature of your food and your morning coffee.

Cobalt-Chrome dentures are also a lot more expensive. The raw materials used are more expensive. The time required to make a chrome denture is also longer than making a plastic denture. There are also much fewer good metal-denture technicians remaining to make a good-fitting set of dentures. Hence, the better quality dentures cost more.

They are not suitable for people who are allergic to Nickel or Chromium, although this is rare in our experience. In most cases, they work very well.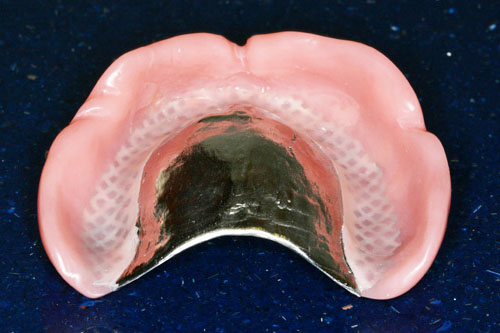 Will a metal-based denture look weird?
The visible metal showing for a metal-based denture is no more than that for a plastic-based denture. In fact, we may be able to make a metal-based denture that shows less metal than a plastic-based denture due to more a precise fit.
Will my metal dentures beep at the Airport Security screening?
It depends on the size of your metal denture. However, hundreds of people with dentures and implants go through Airport Customs every day without problems.
Will I regret making a metal-based denture?
In our experience at B & F Dental, our patients who have been using metal-based dentures almost never choose to go back to plastic because of the better comfort and fit.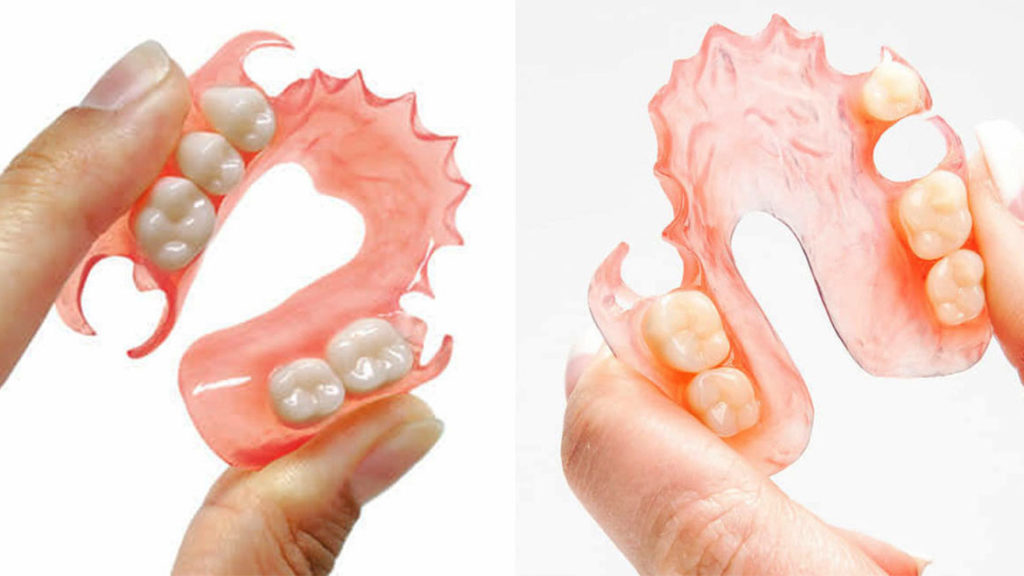 Flexible Dentures have been around in the market for some time. They have the benefit of being completely made of semi-flexible plastic which may be more comfortable for some people than a hard denture. They can be a good option for people who are just missing one or two teeth.

Flexible dentures tend to be more expensive and also have certain downsides to them, such as possibly being harsh on gum health when they rub against the teeth. Your dentist would normally advise you accordingly if they are suitable for you.
All Right. How Are You Going To Make My Dentures?
Denture Making is more an art that a science. At B & F Dental, we take pains to ensure that the denture comes out as desired.
Step 1 : Choose Denture Type And Teeth Shade - 1 Visit
Let us know what type of denture you want to make at B & F Dental. Tell us what you expect from your denture.

If you want them to feel like natural teeth and bite hard foods like natural teeth, we may have to advise you at the start that this may not be possible with dentures alone. Dentures are good plastic teeth replacements but not teeth. You may need implants for that.

We choose the color with you, and you decide what you prefer! Too white may look unnatural for some people.
Step 2: Take An Impression Model Of The Remaining Teeth - Same Visit
We make a copy of your teeth and gums so that the denture can be made to fit your mouth!
If you are missing many teeth or your mouth shape is irregular, we will need to repeat this step a second time at another visit with a denture special tray to get a more accurate impression.

An accurate impression means a better-fitting denture!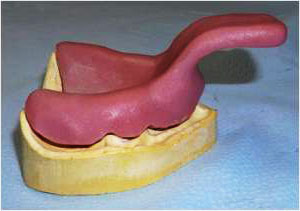 Step 3: Record How Your Teeth Bite Together - 1 Visit
This step allows us to make the denture teeth to match your biting so that you are able to close your teeth together as naturally as possible.
This can be done together with the impression if you have many supporting teeth, or at a separate visit if you have few / no supporting teeth left.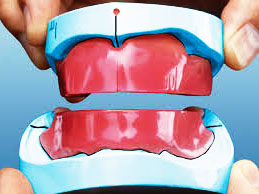 Step 5: Teeth Try-In - Extra Visit
For cases that are more complicated or if you have higher aesthetic demands, we may suggest to you to do a Try-In with the wax denture. The denture teeth are arranged in wax just like the way they would be in the final denture and you get to do a visual test-drive in our clinic.
We will fit the teeth in wax in your mouth to let you see how the final denture will look like.
We also can check your speech at this step to see if you can pronounce sounds normally as this may be affected by teeth positioning.

If there are any changes to be made, we can do it easily at this step. Once the denture is completed, you would have to re-make the whole thing from the start.
Step 5 - Denture Issue - 1 Visit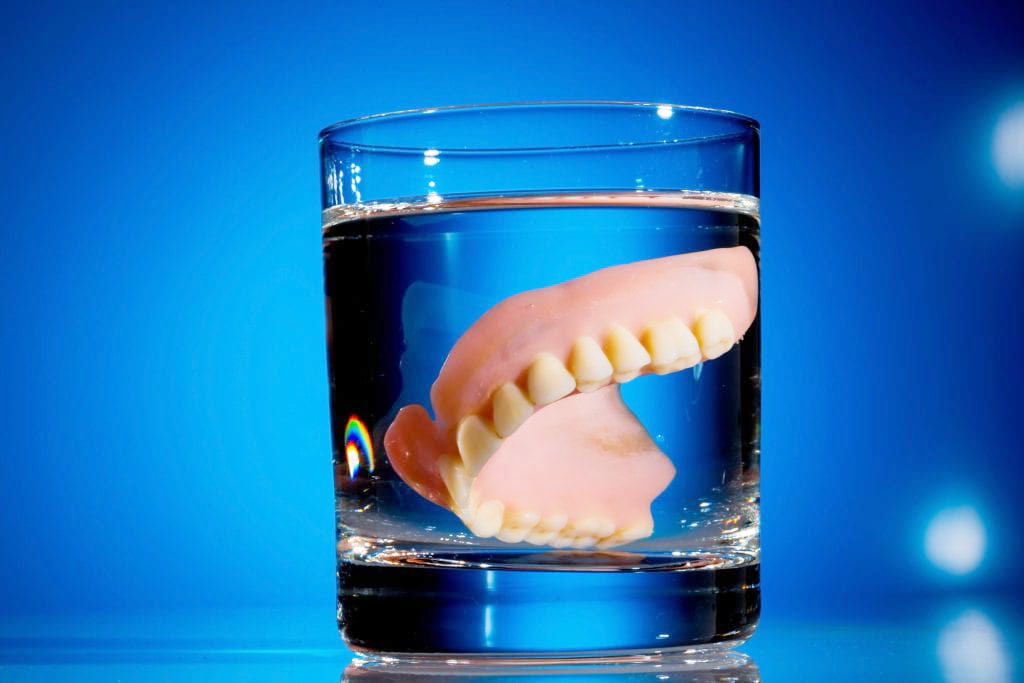 Finally! Your dentures are ready! Many of our patients are very excited at this stage and can't wait to collect their new dentures. But wait, you may not be able to bring them home yet!

At this step, we will fit the dentures in your mouth, identify as many parts causing pain / discomfort as possible and adjust your bite.

If there is any major problem, we will send the dentures back to the laboratory for adjustment and you will have to come back another time. We do our best to avoid disappointment, but we will not give you the denture if there is any major issue with it.

At this step, for new denture wearers, we will teach you to wear and remove the denture.

We will teach you how to maintain your dentures at home so that they last well and stay clean for a long time. We may also prescribe you ulcer cream for any ulcers that may form when you are getting used to the new denture.
Interested in denture treatment?
This is very common for new denture wearers. It is often difficult to get used to the feeling of a plastic / metal object in the mouth. Also, the tongue, cheek and gum tissues may not be used to the pressure and forces from dentures.

At B & F Dental, we would assess it for you and advise what can and cannot be done. The key to success with dentures is often persistence. After wearing their dentures for years, many people become very skillful and so used to their existing dentures that they find it hard to adapt to new ones.

For people with strong gag reflexes or those totally unable to adapt, we may offer you other options like dental bridges or dental implants instead.
Simple Dentures – 2 – 4 weeks on average.
Complex Dentures (Many Missing Teeth, Biting Unstable) – 5 – 8 weeks on average
It takes time to make a good set of dentures! We often have people who come to us the week before an important event – wedding, anniversary, vacation and wanting to make a set of dentures immediately.

It may be difficult to make a good and lasting set given the strict time constraints. Please visit us early to avoid disappointment!